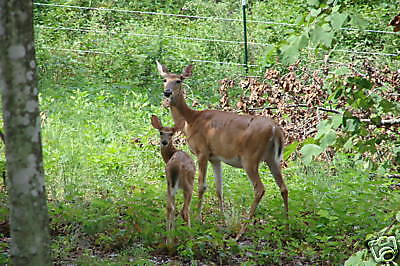 During the summer when I am out of school, I love to walk in the mornings at a local park near my home. My girlfriend, Nancy and I walk together each morning. On Thursday morning, Nancy couldn't walk, so I made the rounds at the park by myself. The walking area at the park is a paved road that is cut through the woods and the scenery is so pretty. I love to walk and take in the beauty of the surroundings. When I walk with Nancy, we talk 90 miles an hour (imagine that!) and solve all the world's problems in the process.
On Thursday morning I was walking by myself, and it was quiet and peaceful in the park. I looked up ahead of me and a Mother deer was coming out of the woods right in front of me. She was just quietly walking across the road as if I wasn't even there. I couldn't believe that she was that close to me!
All of a sudden 2 babies came out of the woods behind her. They were so tiny and precious! They had white spots on their backs and it looked like they were not very old. A mother deer and her twins!!! What a sweet sight to see on my early morning walk. It was as if God was giving me a present on this gorgeous summer day and reminding me that He is the one who created this beautiful world that we live in.
Seeing that deer with her babies put a bright spot in my day! I was amazed that she was not afraid of me and brought her babies that close as I was walking by. I call this type of thing a "God Moment." Times when God speaks to us through simple, everyday events in our lives to get our attention and show His love for us.
Do you have "God Moments" in your life that bring joy to your day? If so, rejoice in them and share those moments with others!
Have a wonderful day!
Love & blessings, Melinda